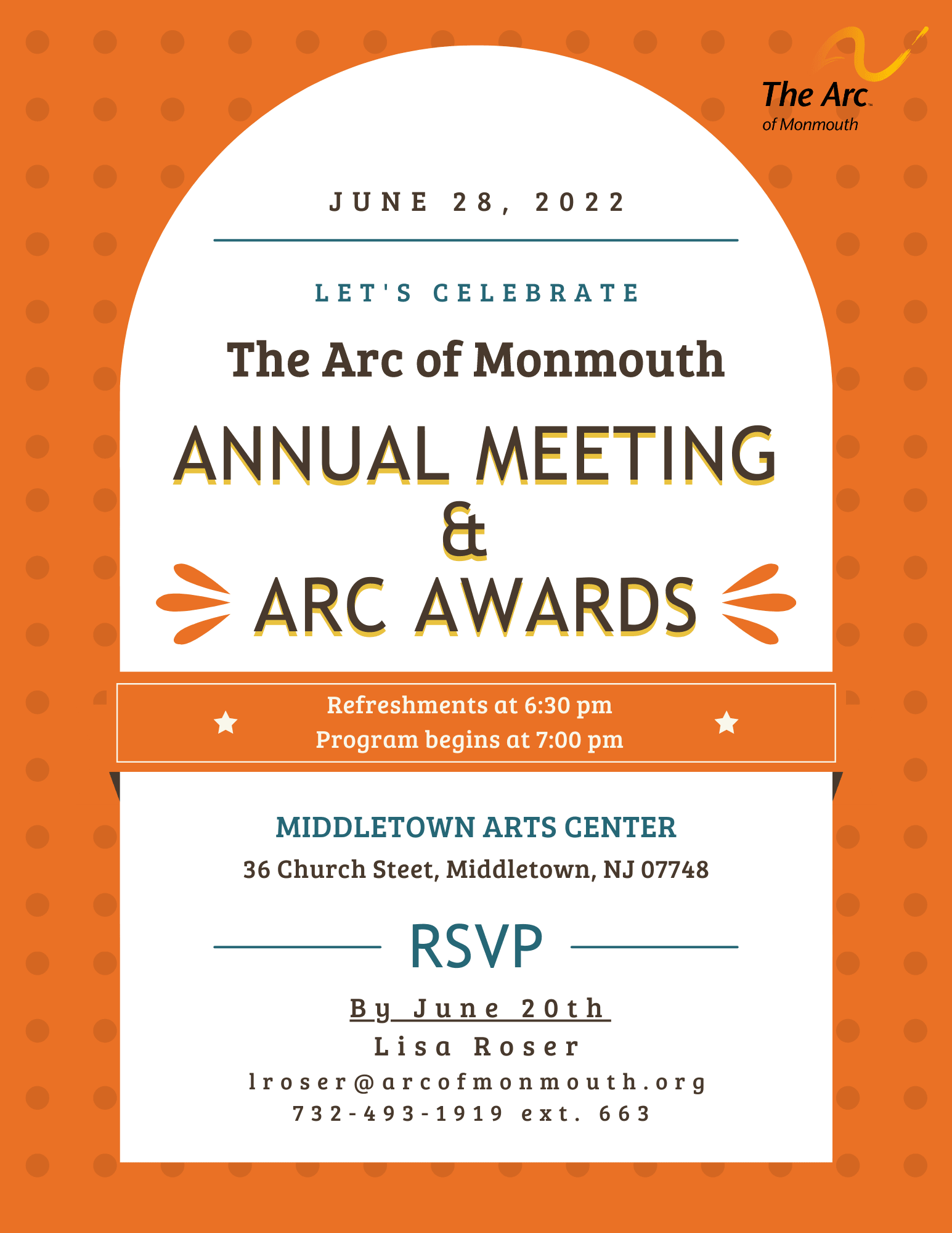 Join The Arc of Monmouth as we celebrate the past year and honor some of our most dedicated staff, community partners, and self-advocate of the year. Hear about the latest agency news, and celebrate these dedicated individuals for their leadership and commitment to The Arc of Monmouth. We will also recognize employees who have dedicated 25 years or more to our agency. 
Doors open at 6:30 pm
The Middletown Arts Center
36 Church Street, Middletown, NJ 07748
2022 ARC AWARD HONOREES:
Company of the Year - George Rademacher,  Finale Marketing Group
Self-Advocate of the Year - Maria DeBenedetto, Work Opportunity Center Participant
Direct Support Professionals of the Year - Marissa Cecere, Shore Program and Western Monmouth & Sheila Dickerson, Work Opportunity Center
Employees of the Year - Colleen Keenan, Health Services & Ellen Scurry, Human Resources
The Kathy Mullery Arc Ambassador Award - Margie London, Recreation Manager 
Community Partner of the Year - Maggie O'Brien, Middletown Arts Center
The Executive Director's Special Award- Candice Layton, The Achievement Zone
CONGRATULATIONS TO ALL OUR HONOREES! Thank you for your tireless efforts to improve the lives of people with intellectual and developmental disabilities and their families, and for being shining examples of The Arc's core values. 
We hope to see you at the Annual Meeting & Awards Ceremony! Please RSVP to Lisa Roser, ASAP, space is limited.