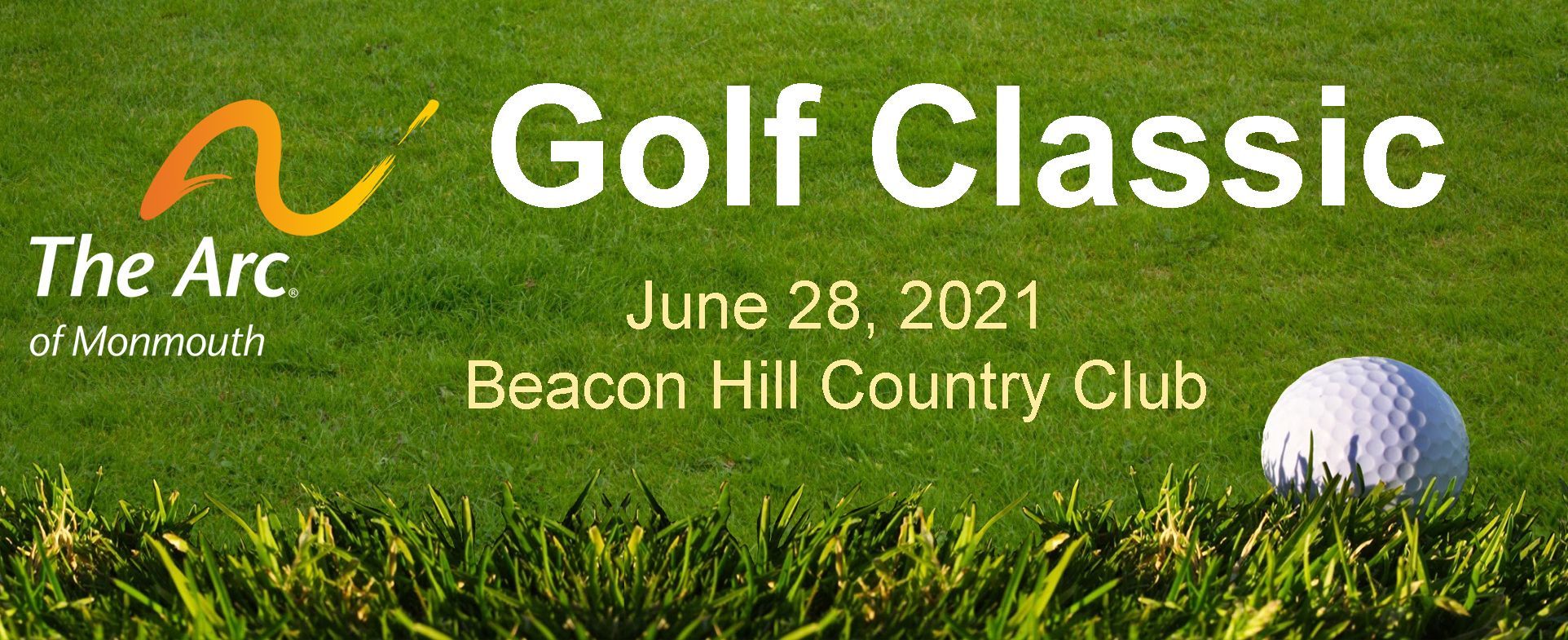 THE ARC OF MONMOUTH 2021 GOLF CLASSIC
GOLF FUNDRAISER! HAVE FUN & HELP THOSE WITH INTELLECTUAL AND DEVELOPMENTAL DISABILITIES
Your support of our annual golf fundraiser goes toward improving the lives of those with intellectual and developmental disabilities (I/DD) by providing…
Advocacy support
Educational services
Community support
Residential and independent living options
Recreational options
Day programs
And much more!
Why It Matters...
There are many individuals and families affected by intellectual and developmental disabilities. All too often the families don't know where to turn when they need help. Families need a variety of services to support their loved ones. And those with I/DD deserve to feel like they are part of a community. They need to know that their lives matter and that they can learn new skills, enjoy higher education, experience independence, and live life to the fullest.
This is The Arc of Monmouth's mission. And when you join our efforts, you become a hero to use that these families.
We Get It...
We understand what these families go through, having no support and nowhere to turn. The Arc was established by a group of parents who joined together to provide necessary services for their children. As a result, countless lives have changed. And we want to keep the momentum going, giving opportunities to individuals and impacting the world in a positive way.
Ready to Have Fun and Change a Life at Our Golf Fundraiser?
Here's What to Do…
Step 1: Save the Date for This Year's Golf Classic
When: Monday, June 28
Where: Beacon Hill Country Club at 8 Beacon Hill Rd, Atlantic Highlands, NJ 07716
At the Golf Classic, you'll enjoy a carefree day playing the sport you love on a beautiful 18-hole course.
Think of this fun-filled day soaking in the sun and fresh air as a reward for your generosity, helping us raise funds for our mission to improve the lives of persons with intellectual and developmental disabilities (I/DD).
Step 2: Take a Look at Our Above-Par Schedule
Registration begins at 10:30 AM
BBQ lunch served at 11:30 AM
Shotgun Start tees off at 1:00 PM
Cocktail Hour starts at 6:00 PM
Awards Dinner served at 7:00 PM
The all-day event kicks off with registration at 10:30 AM Enjoy getting together and chatting with others during the BBQ lunch at 11:30 AM.
Then, prepare to tee off, as the Shotgun Start kicks off at 1 PM As the day starts to wind down, join us for a pre-dinner Cocktail Hour at 6 PM.
This entire day is designed to give you the perfect opportunity to catch up with old friends and meet new ones who share your love of playing golf and supporting the community.
The Golf Classic 2021 will close with our Awards Dinner. There we will celebrate our honorees, Sheriff Shaun Golden and Monmouth County Board of Commissioners Director Thomas A. Arnone.
Simply click on the button below and fill out the form provided to register for the golf fundraiser and/or take advantage of sponsorship opportunities. Get ready to have fun and change a life!
Can't participate in person? That's okay! You can still make an impact by donating to The Arc of Monmouth HERE.
As you can imagine, this past year has been particularly difficult. During the pandemic, The Arc of Monmouth continued to provide 24/7 care to the residents we serve in our group homes and supervised apartments throughout Monmouth County. While our resources are all focused on minimizing the current threat, much of our normal funding is not coming in. Any amount you can provide will greatly impact the lives and future for those with I/DD. We are extremely grateful for your generosity and desire to make a difference.
Your Support Serves People with I/DD
This annual golf fundraiser brings in vital funds to support our many programs and services for individuals with I/DD.
Without the sustained support of donors and volunteers like you, those with I/DD and their families don't get the appropriate care, training, programs, and education they need to live life to the fullest. Your support and partnership matters—from helping to grow our group homes and independent apartments to providing vocational and recreational opportunities.  
Through this unique golf fundraiser, you are giving others an opportunity to grow in the following areas…
Education
Life skills training
Recreation
Health services
Vocational training
College program at Brookdale
And more...
Thanks to generous financial supporters like you, individuals with I/DD can experience what it's like to be a part of a community, growing and learning new skills that equip them for their future. Finally, families have a place to turn and can feel confident their loved ones are set up for success.
Honoring Our Community Heroes
Join us as we honor two county leaders who embody the spirit of public service that inspires everyone involved with The Arc of Monmouth. We are grateful for the dedicated leadership of Sheriff Shaun Golden and County Board of Commissioners Director Thomas A. Arnone for promoting initiatives that ensure the safety and inclusion of people with I/DD in our community. We also thank them for their efforts to combat the pandemic.
Both Sheriff Golden and Director Arnone have been instrumental in working with local government agencies and non-profits to coordinate initiatives like the Monmouth County Special Needs Registry, Project Lifesaver, and the Growth Through Opportunity program.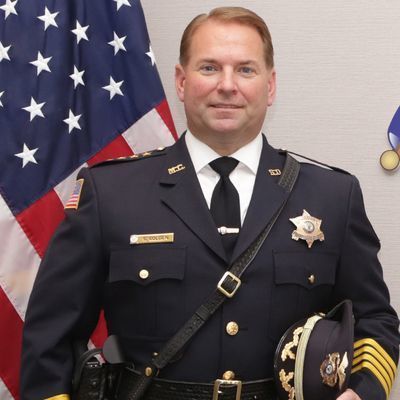 Monmouth County Sheriff Shaun Golden
Sheriff Shaun Golden has served as the 76th Sheriff of Monmouth County since 2010 and during his tenure has championed innovative programs and partnerships targeting youth safety.
The lifelong Monmouth County resident has served the public in law enforcement for 25 years. As undersheriff, he was responsible for the Monmouth County 9-1-1 Communications Center.
Sheriff Golden started his career in law enforcement after graduating top of his year at the Monmouth County Police Academy. He then served as a police officer with the Colts Neck Police Department and the Toms River Police Department. He also worked as a certified paramedic, an EMT, and a volunteer firefighter.
Under his leadership, the Sheriff's Office offers more than 30 community safety programs. Many of them directly impact the lives of Monmouth County's most vulnerable people, including children and young adults, such as the Citizens Police Academy, Child ID & Senior ID Program, Students Professional Awareness, and Bicycle Safety.
Service Awards:
●     Latino American Association of New Jersey's Community Service Award
●     Monmouth University's Maurice Pollak Award for Distinguished Community Service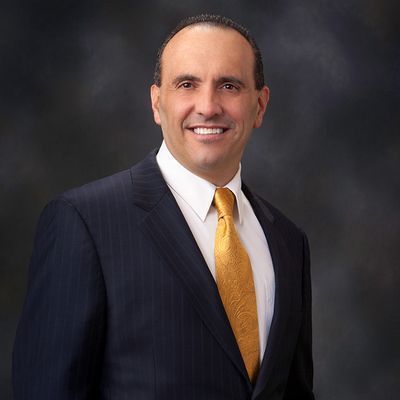 Monmouth County Board of Commissioners Director Thomas A. Arnone
With decades of public service, Monmouth County Board of Commissioners Director Thomas A. Arnone was elected as Director in 2021, having previously held the position in 2013.
As a commissioner, Director Arnone established an initiative to promote good nutritional habits among students from diverse backgrounds. He has worked to revitalize the county's business climate and tourism.
He also served as mayor of Neptune City from 2004 through 2010 and as a Neptune Council Member from 1997 through 2003. During his tenure he held commissioner positions for the Police and Public Works departments, and he was Director of the Office of Emergency Management. He has served on numerous city boards and committees including land use, recreation, and community development.
Active in several statewide organizations, Director Arnone currently serves the County on the North Jersey Transportation Planning Authority and the Salvation Army New Jersey Division.
Coming Back Strong After COVID-19
At The Arc of Monmouth, we know you're looking forward to getting outside after what seems like a lifetime of social distancing to battle COVID-19. Fortunately, the Golf Classic 2021 is back stronger than ever after we had to suspend last year's event out of concern for the health of all. This year, thanks to the progress with the vaccination program and a better understanding of how the virus spreads, we can safely hold the event for players, sponsors, and volunteers.
Your generous support allows The Arc of Monmouth to do its work of empowering people with I/DD to live full, meaningful lives and to engage with their community.
Join us in this mission as a sponsor or a player and make a meaningful impact on those with I/DD!