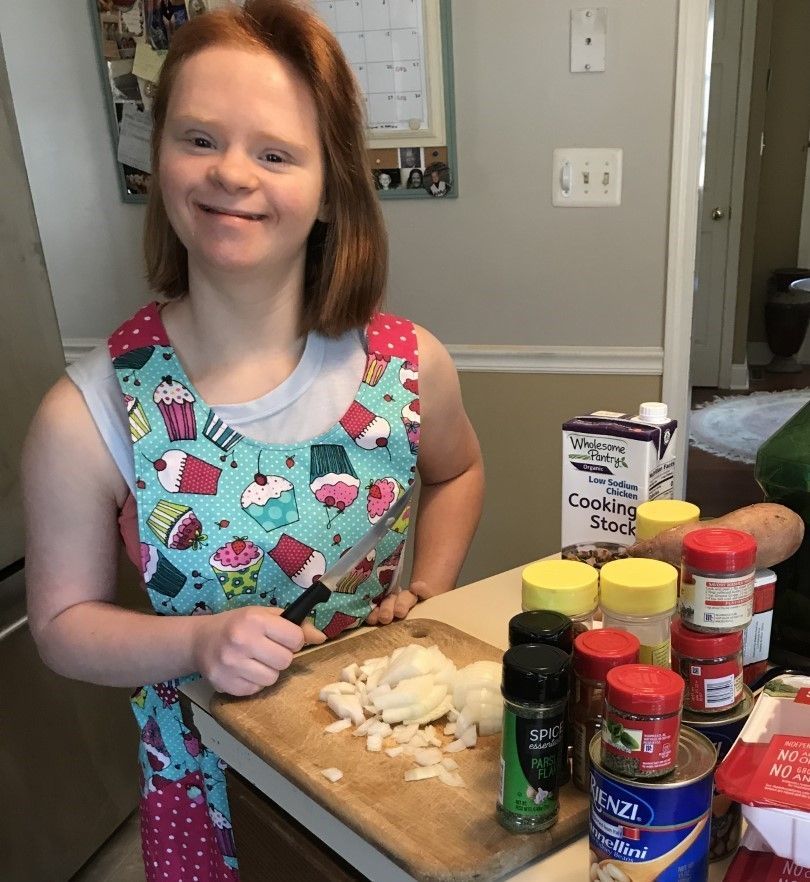 Adapting to the virtual world hasn't always been easy but it has given program coordinators like Candice Layton an opportunity to try new things for her and participants of The Achievement Zone (TAZ).
One of these exciting new opportunities was an advanced cooking class. "When I was thinking about running an advanced cooking class, which would involve the use of the stove and oven as well as using knives to slice chop and dice, I was a little hesitant at first mostly because it had to be done virtually," said Candice. "We had just completed a basic cooking class which used the microwave to cook and bake as well as simple food preparation like puddings and sandwiches with great success and figured this would be the natural next step."
The students in TAZ's Advanced Cooking have been excelling in the kitchen and stepping out of their comfort zones. Dani Zalepka, one of the students in advanced cooking stated, "before this pandemic I only knew how to cook in the microwave, during this pandemic I've faced my fears and thanks to TAZ and Candice Layton I'm not afraid of the stove anymore."
In less than a month Dani has been able to cook independently for her and her Grammy. So far, she has made chicken noodle soup twice, taco soup two times, potage, scrambled eggs, meatballs, and Italian wedding soup.
"Cooking is my favorite class ever. I like learning how to cut vegetables and use the stove," said Ireland Kosco, another student in TAZ's advanced cooking class. "I like cooking because you take so many ingredients and turn them into something delicious. My favorite thing to cook is soup, pasta and eggs. I want to be a good cook and be more independent."
Young adults like Dani and Ireland enroll in The Achievement Zone to challenge themselves and prepare to pursue their goals, as they take the next step as adults. Building independence is a key component in that.
"I am astounded as to how well the participants have performed in the advanced cooking class. Learning how to cook is essential to independence and conquering any fears in the kitchen by learning proper and safe techniques is the first step," Candi explained. "Kudos to my Advanced Cooking Class as well as to my Basic Cooking Class who are also amazing me each day."