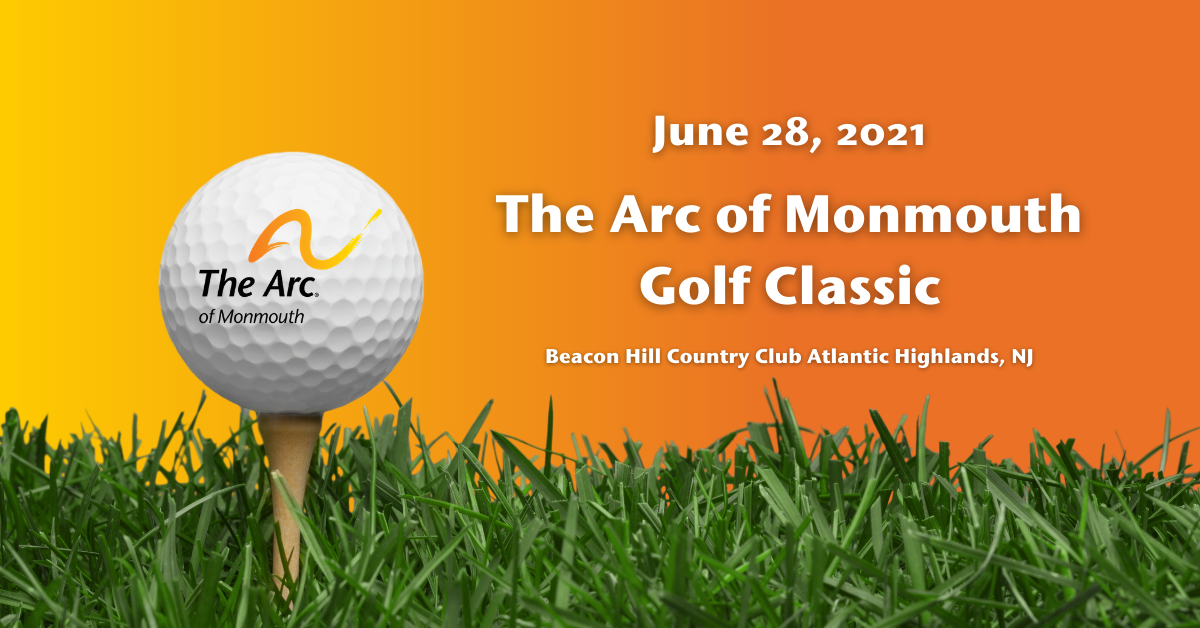 The Arc of Monmouth's 2020 Golf Classic was canceled out of concern for the health and well-being of all players, sponsors, and volunteers. This year, thanks to the progress with the vaccination program and a better understanding of how the virus spreads, we can safely hold our 2021 Golf Classic fundraising event. Our dedicated staff members and volunteers are hard at work putting this event together, and we encourage you to join us on Monday, June 28, at Beacon Hill Country Club. 
Why This Golf Classic Fundraising Event Matters
Many individuals and families affected by intellectual and developmental disabilities (I/DD) struggle to get through each day without the services they need. Yet people with I/DD deserve to have their needs met and get the opportunity to learn new skills, enjoy higher education, and experience independence to live life to the fullest. And above all, they deserve to feel like they are part of a community. 
Being there to provide for their physical, emotional, and developmental needs is The Arc of Monmouth's mission. And when you support us by joining our 2021 Golf Classic fundraising event, you become their hero!
Your support of our annual golf fundraiser goes toward improving the lives of those with I/DD by providing…
Residential and independent living options
Health care
Advocacy support
Educational services
Community support
Recreational options
Day programs
And much more!
What You Can Expect
The 2021 Golf Classic fundraising event will be held on a beautifully renovated 18-hole course at Beacon Hill Country Club. And a heart-healthy day playing golf is the perfect way to support a good cause while spending quality time with family and friends, especially after being cooped up indoors for so long. 
Think of this fun-filled day soaking in the sun and fresh air as a reward for your generosity, helping us raise funds for our mission to improve the lives of persons with intellectual and developmental disabilities (I/DD).
In addition to the game itself, the 2021 Golf Classic fundraising event will feature a delicious BBQ lunch and Cocktail Hour, as well as our special Awards Dinner. 
Golf Classic Fundraising Event Awards Dinner 
The Awards Dinner will take place in Beacon Hill Country Club's majestic Clubhouse, which offers a panoramic view of the New York City skyline. We are proud to honor two Monmouth County leaders, Sheriff Shaun Golden and Monmouth County Board of Commissioners Director Thomas A. Arnone. We are grateful for their dedicated leadership promoting initiatives that promote the safety and inclusion of people with I/DD in our community. 
How You Can Make a Difference
This annual Golf Classic fundraising event brings in vital funds to support our many programs and services for individuals with I/DD. And by participating as either a player or a sponsor, you can help ensure those with I/DD and their families get the appropriate care, training, programs, and education they need to live life to the fullest. 
By joining us for the event, you can make a difference.
Those of us at The Arc of Monmouth are looking forward to the 2021 Golf Classic, and we hope to see you there!
To learn more about the event and sign up today, click HERE.
Can't participate in person? You can still make an impact by donating to The Arc of Monmouth HERE.