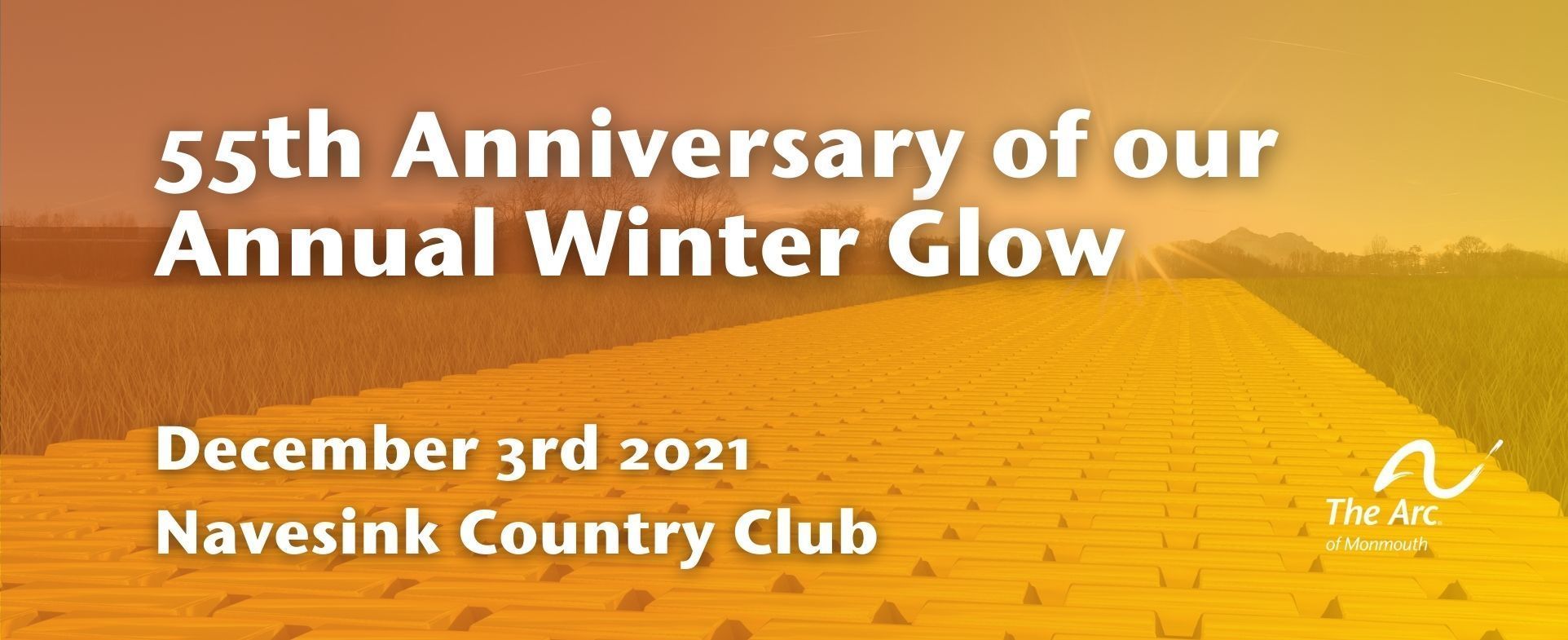 The 55th anniversary of Winter Glow, our annual winter fundraising event, falls almost two years after the first reported cases of COVID-19 appeared in the United States. As you may imagine, getting through this period has been challenging. The Arc of Monmouth continued to provide services throughout the pandemic while donations fell sharply. 
Last year we held the Winter Glow virtually because of Covid-19 restrictions and concerns for the health and well-being of attendees and event staff. So, we're delighted that we are back in full swing for our Wizard of Oz-inspired Winter Glow in honor of its emerald anniversary. 
Proceeds from the annual Winter Glow will help fund the renovations of a new Day Center on Campus Parkway in Wall. It's a central part of The Arc of Monmouth's new strategy to extend and expand services to address unmet needs for people with intellectual and developmental disabilities (I/DD). 
We hope you'll have it in your heart to support our mission, staff, and dedicated Winter Glow volunteer committee by joining us on Friday, December 3, at Navesink Country Club in Red Bank. 
Why This Winter Fundraising Event Matters
The Arc of Monmouth is currently struggling with the necessary space to provide all the services that Monmouth County residents with I/DD need. The proceeds for this year's Winter Glow will fund the development of our new Day Center, which is already underway.
Once the purpose-built accessible Day Center is open, The Arc of Monmouth will be able to bring our existing day programs under one roof and expand our program offerings. Plus, we will have to turn away far fewer referrals for our services.
With support from kind-hearted donors like you, the new Day Center will provide a central, safe, welcoming location where participants can feel the warmth of friendship and have their needs met. No less important, your contribution will help us fulfill our mission to help people with I/DD achieve greater independence.
The Day Center will provide the participants with life-changing services, including the following:
Medical day habilitation services
Behavioral and counseling services
Physical, occupational, and speech therapy
Expanded educational programs and skills development
 Life skills training
Recreational services
What to Look Forward to at the 2021 Winter Glow
As mentioned above, this year's Winter Glow will be hosted at the beautiful Navesink Country Club, which offers a sweeping view of the Navesink River. The festivities are scheduled to begin at 6:30 p.m. 
We invite you to dance the night away to the sounds of Total Soul. Enjoy the awards dinner, participate in an auction of Wizard of Oz-inspired artwork, and have fun knowing you're contributing to a great cause. 
Honoring Erica Schaefer at the Awards Dinner
We are delighted to honor Erika Schaefer, Executive Director of the Monmouth Museum, as this year's Winter Glow honoree, at a sit-down dinner. We will pay tribute to her leadership and dedication to improving the lives of seniors and people with special needs. 
How Your Support Changes Lives
Your support is crucial for the new Day Center project to be a success. Without your contribution, too many people with I/DD will miss the opportunity to learn and grow toward independence.   
Whether you participate as a guest or a sponsor, you will help those with I/DD and their carers enjoy the benefits of the new Day Center and the opportunity to thrive. 
Join us for this year's Winter Glow and help participants achieve and thrive!
To learn more about Winter Glow and sign up today, click HERE.
Can't attend in person? You can still make an impact by donating to The Arc of Monmouth HERE.