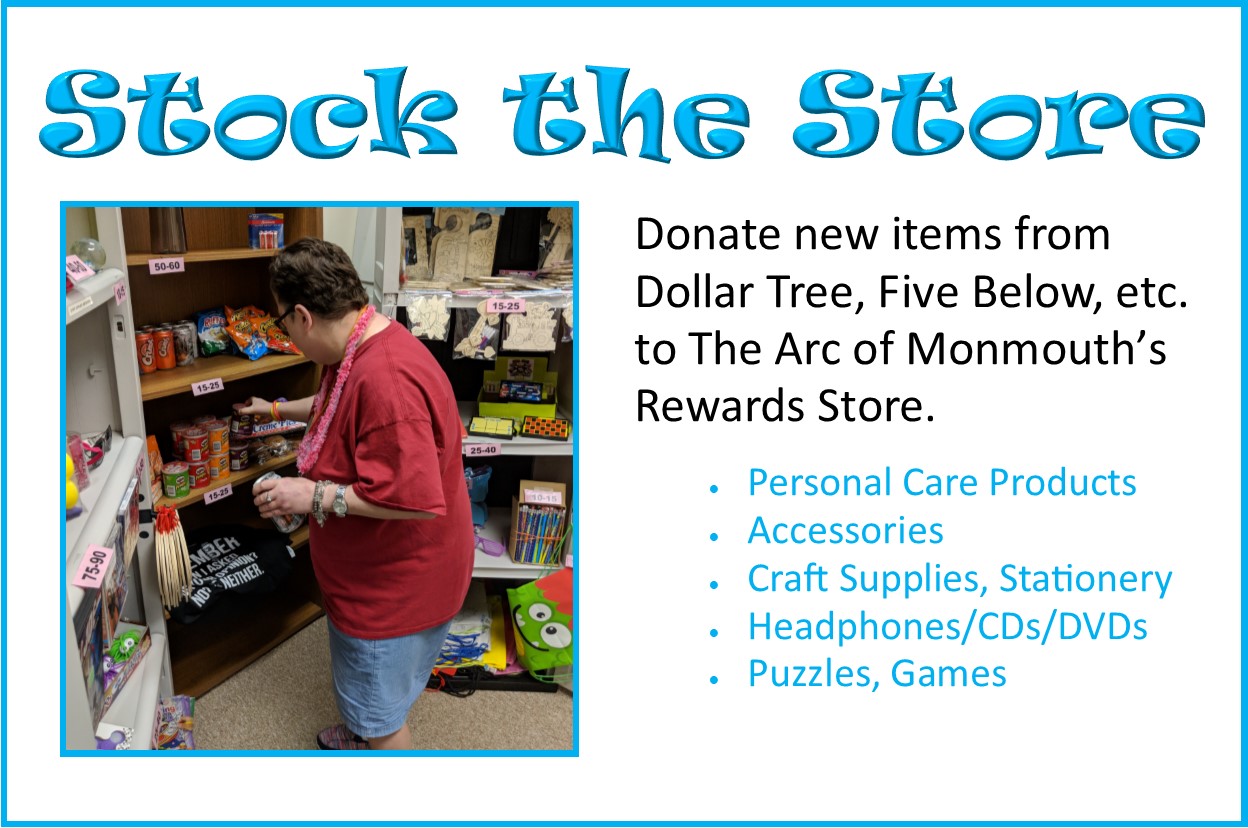 Help us #StockTheStore and change a life for the better!
The Arc of Monmouth's Green Grove Achievement Center is an adult day center that provides additional behavioral supports to adults with I/DD.
One of the most powerful tools to shape behavior is positive reinforcement.
When someone does something positive (ex: attending group therapy, working towards personal goals, or a random act of kindness) the positive behavior is immediately rewarded with tokens. Participants earn tokens throughout the week, and on Friday afternoon they can exchange their tokens for items in the Rewards Store.
The store's name, "Rewards 'R Us" was voted on and chosen by the participants.
Each person has their own time in the store with a staff person to review how many tokens they've earned throughout the week and to choose their own rewards. The tokens are virtual, tracked in a log by staff. Each participant has a mock credit card, swiped on a credit card machine upon making their choices in the store. The mock transaction helps the individuals with I/DD better comprehend value and earning.
In just the first three weeks, the Green Grove staff began noticing improved behavior. Participants are more motivated to work on the goals listed in their individual plans, and are excited to get their turn in the store each Friday.
The Arc of Monmouth is seeking donations of new items to help Green Grove staff keep Rewards 'R Us stocked with useful and motivating inventory from the Dollar Tree and Five Below. Inventory includes everything from personal care products to novelty sunglasses, socks, puzzles and craft supplies.
Donations can be dropped at The Arc Center
1158 Wayside Road, Tinton Falls, NJ 07712
Here is a list of the "most desired" items, requested by participants themselves:
Personal Care Products:
Razors and Shaving Cream
Toothpaste
Body Wash/Lotions
Shampoo & Conditioner
Combs/Brushes
Hair Gel and Styling Products
Hand Sanitizer
Body Sprays or Cologne
Deodorant
Clothing/Accessories:
Sunglasses
Hats
Socks (especially novelty socks with fun designs - both men/women)
Slippers
Watches or Costume Jewelry
T-Shirts
Toys/Hobbies:
Craft Supplies, Coloring Books, Crayons
Stationery, Notebooks/Journals, Pens
Books
Teddy Bears
Toy Cars
DVDs/CDs
Headphones or Ear Buds
Sports Items
Wrestling Figurines
For more information on how you can help Stock the Store, please contact the Development Office 732-493-1919 ext 125