HELP MAKE THIS PROJECT A SUCCESS!
With help from generous supporters like you, The Arc of Monmouth has taken a giant leap forward in our mission to provide life-changing services to people with intellectual and developmental disabilities (I/DD) in Monmouth County. We are excited to announce we have started construction work on our new day center in Wall Township, which is now expected to open in February!
Why a New Day Center Is Necessary
For years, The Arc of Monmouth has struggled to find the space for all our beneficial programs. Because of that, there have been some unmet needs among our clients. Many of those who are enrolled in our services must go to various locations to be able to participate, and sometimes these locations are not always situated ideally for the people we serve. Moreover, not everyone with I/DD has been able to take advantage of our offerings; over the last 3 years, we have received hundreds of referrals for day services, and we cannot always accommodate all those who qualify.
But with our new day center, we will be able to serve those with I/DD better! The facility will provide a new environment built to accommodate our participants' specific needs.
Our clients will finally be able to visit one location to receive the full range of Day Habilitation services that we aim to provide.
More individuals with I/DD—including those we have had to turn away due to lack of space—will be able to join The Arc of Monmouth family.
Those with I/DD will be able to benefit from our new medical habilitation programs. 
Since we are the largest agency in Monmouth County that comprehensively serves the needs of individuals with I/DD, the new day center will significantly improve the services available for all those who need them. 
Plus, the project will create new employment and volunteer opportunities in the human services and disability services field. 
What the New Day Center Will Look Like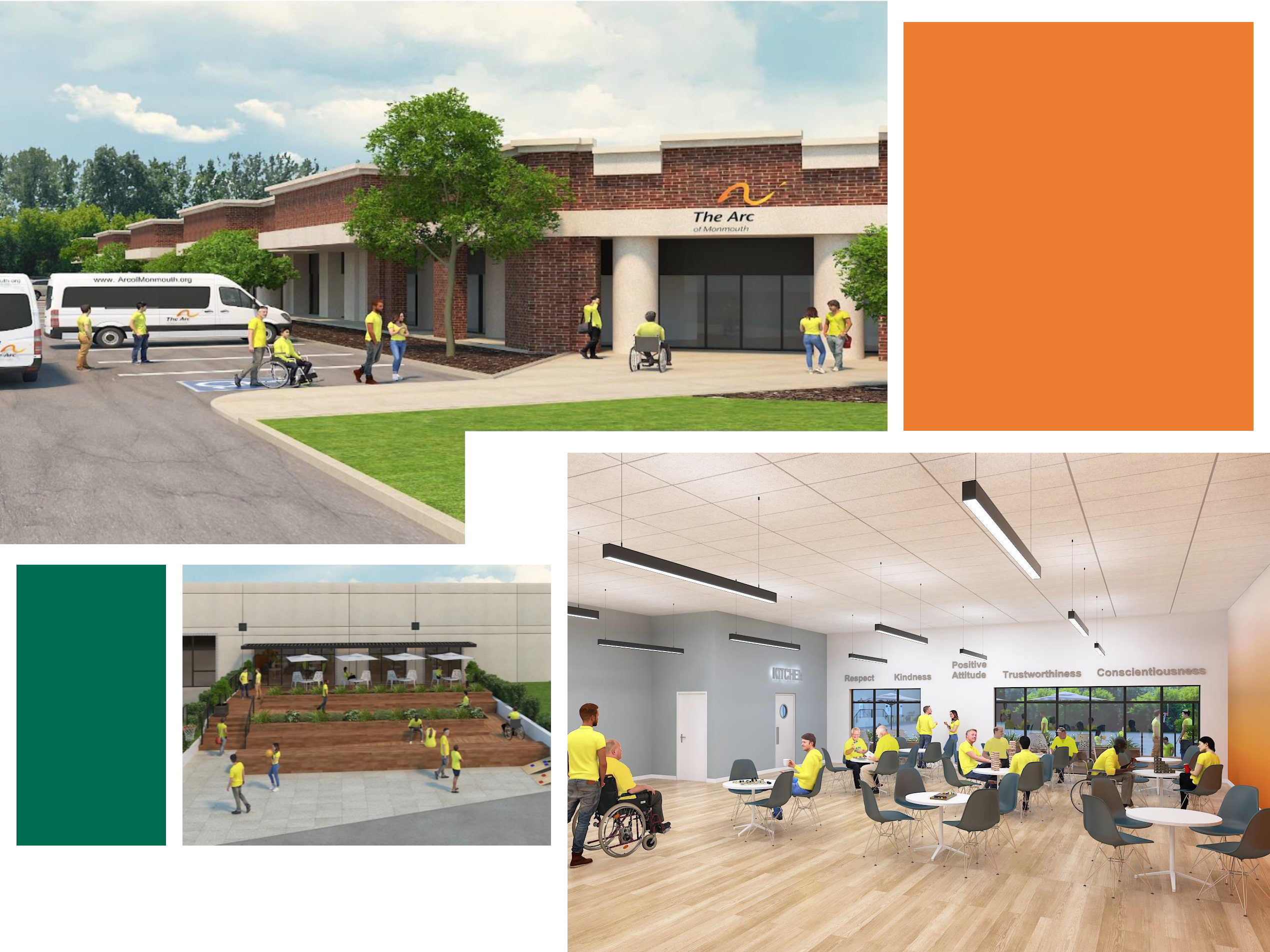 The new facility will include the following:
Individual program areas
A kitchen for each program area
Restrooms
Classrooms
Counseling rooms
Clinical rooms
A Sensory Room
A gym
Eventually, there will be outside seating and an area for recreational activities. 
What Services Will Be Available
With the new day center, more individuals with I/DD in the county will be able to enroll in current programs. Plus, they will be able to take advantage of additional services. For example, Medical Day Habilitation for young adults will be available at the center overseen by nursing staff. We will also be offering behavioral services and counseling provided by a licensed BCBA and counselors. Physical, Occupational, and Speech Therapy will also be available, provided by licensed therapists.
1. Medical Day Habilitation Services 
A dedicated interdisciplinary team of professionals will work together to improve the lives of people with I/DD. The team, consisting of clinical staff members and therapists, will evaluate and consult with individuals and care providers to develop a comprehensive support plan for each program member. 
2. Educational Programs and Skills Development 
The Arc of Monmouth also provides extensive programs to develop social and emotional skills and promote independence. Each participant will develop an individual service plan that builds independent living, social communication, and daily living skills.
How to Stay Up to Date on Progress
We will be updating this page as new information becomes available. In addition, we will be posting updates on social media, so keep checking back to find out the latest news!
Enrolling in Our Programs
If you have a family member who wishes to receive services at our new day center, please complete the inquiry form HERE.
Joining Our Team
The new day center will provide numerous job and volunteer opportunities when it opens early next year.   
Employment Job Opportunities: To learn about job openings at the day center once it is open, visit our Careers page HERE.

Volunteer Opportunities: To learn about volunteer opportunities, complete the application form on our Volunteers page HERE. We'll get back to you with opportunities that may be of interest.
We will announce these opportunities on our website and through social media—so stay tuned!
How to Help Make This Project a Success
Step 1: Stay Up to Date on Progress. 
As mentioned above, we will be updating this page and social media as new information becomes available. So, to stay up to date on the day center project and ways you can help, be sure to follow The Arc of Monmouth and check this page periodically. 
Step 2: Spread the Word about Job Opportunities. 
Though the day center won't be opening until early next year, we're always looking for individuals who have a heart to help others. We need individuals on staff to run our current and future programs. So, to help ensure we have the staff necessary, spread the word about our job opportunities HERE. 
Click the button below and give any amount to support our efforts and contribute to the new day center project. Help make a difference in the lives of those with I/DD! 
We are always heartened by the willingness of our community of individuals and businesses in Monmouth County to support our mission.
We would like to recognize that generosity by providing sponsorship opportunities such as room dedications and memorial benches. To learn more, you can inquire with The Arc of Monmouth by contacting us HERE.
Why Your Support Matters
Although construction of the new day center is already underway, your support can help ensure this project is a success. It is what allows us to expand our staff, programs, and capabilities so we can serve those in our community better.
When you support our cause, you play a role in giving individuals with I/DD the opportunity to grow in the following areas…
Enrichment
Education
Life skills
Recreation
And more…
Ultimately, you can make a difference in the lives of those with I/DD and their families!