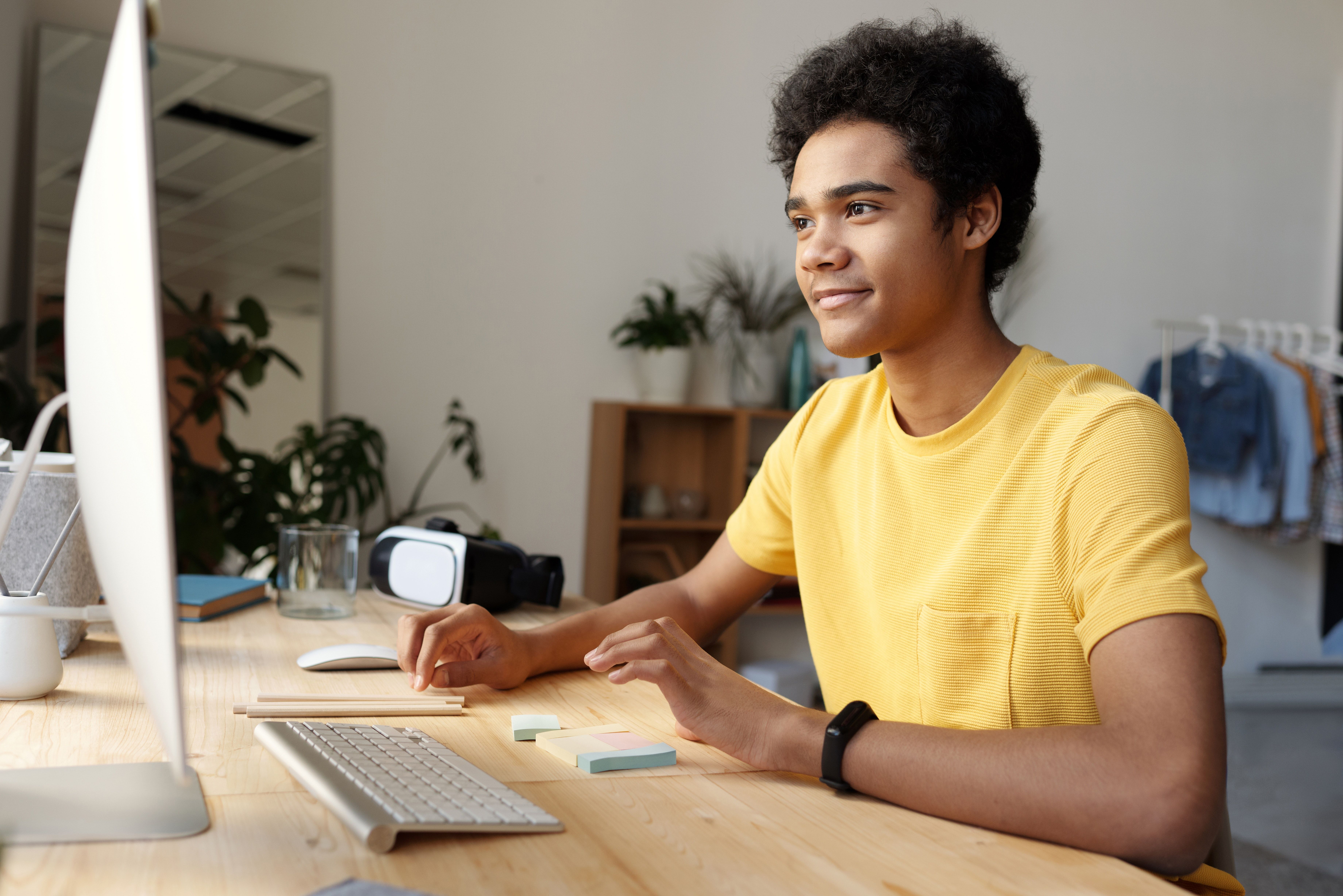 The Achievement Zone's Online Learning
The Achievement Zone will be offering online classes for the Fall Semester. 
There will be two optional start dates: August 17, 2020 and September 14, 2020. Classes run until December 18, 2020
TAZ Online will be offering two class choices every hour. Participants do not need to sign up for the entire day. They can select as many or as few of the options as they desire. When making your class selections, please be aware of the participant's potential fatigue from sitting at the computer for too long. We want TAZ Online to be an enjoyable experience and not to be overtaxing. TAZ Online will take place via ZOOM. 
To enroll: 
Decide which classes you are interested in. Please note that classes are scheduled multiple times each week, Ex Technology 1 will cover the same material on Monday, Wednesday and Friday. 
Complete the Interest Selection Survey (button in the right side bar of this webpage)
You will receive confirmation from The Achievement Zone staff
Your Support Coordinator will submit an SDR. Once The Arc receives it, you will be sent the link to the Zoom class. 
If you have any questions, please email TheAchievementZone@arcofmonmouth.org or call (732) 493-1919 ext. 775. 
TAZ Online will not be in session on the following holidays: 
September 7 - Labor Day
October 12 - Columbus Day
November 26-27 - Thanksgiving
Search Classes by Day:
Virtual Class Schedule - by Day
Full Class List:
Blue = Pre-Vocational
Orange = Community Inclusion
Monday
9 - 10   Introduction to Conversational Spanish - Topics include greetings, basic vocabulary, and conversations applicable to a variety of employment settings (PV)
9 - 10   Bingo - Join us for a few games of Virtual Bingo (CI)
10 - 11   Back to Basics: Writing - Students will learn about sentence structure, grammar, sequencing, and character development while creating a story as an end result (PV)
10 - 11   Cooking with Candice - In this class you will be able to follow along as we create some culinary delights without the use of a stove. Students may need to use a microwave sometimes. Participants must be able to independently use basic kitchen tools such as a knife or can opener. A list of required items will be sent a week prior to the class. We will also learn about different foods, proper food handling and sanitation (CI) - Registration Closed, Class is full.
11 - 12 Technology Level I - This class will address and explore skills needed to be successful in employment. Basic computer literacy skills will be covered. (PV)
11-12   Karaoke- Sing your heart out to popular music. Words will be provided on screen for you to follow along. (CI) Registration Closed, Class is full.
12-1   Break
1-2   Book Club Level  1- The purpose of this book club Level 1 is for the participants to read the chosen book and follow with an enlightening discussion about the book, so as to provide an open forum of ideas and opinions. Participants will improve their comprehension skills so as to increase employability in the community. Reading level for this class is approximately 3rd grade.(PV)
1-2   Social Discussions- Join us for a discussion on current events as well as participant driven topics of interest. (CI)
2-3   Job Skills - Students  will learn the hard and soft skills related to finding and keeping employment.(PV)
2-3   Fitness - Students will follow a step by step guide covering the fundamentals of fitness and learn what they are required to do to reach their health and fitness goals.(CI)
Tuesday
9-10   Back To Basics: Reading - vocabulary and comprehension for employment.(PV)

9-10   

Drumming

 - Drumming stimulates creative expression. When you drum, you get to self-express and it's been called the equivalent of talk therapy! Drum circles provide a means of exploring your inner self, and expanding your consciousness while being part of a community. Participants will need to have a table or other item to use as their "drum".
10-11   Money Management- In this class the participants will learn how to budget, save and spend making appropriate decisions. (PV) 
10-11   Drama/Theater - Students will learn to act by participating in a variety of theater games, exercises and improvisations culminating with a basic scene presentation. The student will learn how the actor's words and body communicate a full range of ideas and emotions.(CI) 
11-12   Advanced Technology-This class is intended for those who have knowledge of computer basics. Students will be working in excel, spreadsheets and other computer programs needed to advance in employability.(PV)
11-12   Photography- Students will learn how to use the camera they have (IPAD, cell phone). We will discuss the work of great photographers as well as your own photographs in order to better understand the fundamentals of composition. Be prepared to share your photos and discuss why the picture was important to you. (CI)
12-1   Break
1-2   Book Club Level 2- The purpose of this book club Level 2 is for the participants to read the chosen book and follow with an enlightening discussion about the book, so as to provide an open forum of ideas and opinions. Participants will improve their comprehension skills so as to increase employability in the community. Reading level for this class is approximately 5th grade.(PV)
1-2   Fitness- Students will follow a step by step guide covering the fundamentals of fitness and learn what they are required to do to reach their health and fitness goals.
2-3   Introduction to Conversational Spanish-Topics include greetings, basic vocabulary and conversations applicable to a variety of employment settings. (PV)
2-3   Bingo- Join us for a few games of Virtual Bingo (CI)
Wednesday
9-10   Back to Basics: Math - Students will reinforce basic computation skills which may be required for employment (PV)

9-10   

Fine Arts

- Students will tap into their creativity while enjoying their self-expression. A list of materials will be provided before class. (CI)

10-11 

 Job Skills

- Students will learn the hard and soft skills related to finding and keeping employment (PV)
10-11   Fitness - Follow a step-by-step guide covering the fundamentals of fitness and learn what they are required to do to reach their health and fitness goals. (CI) Registration Closed, Class is full.
11-12   Technology Level I - This class will address and explore skills needed to be successful in employment. Basic computer literacy skills will be covered (PV)
11-12   Social Discussion - Join us for a discussion on current events as well as participant-driven topics of interest (CI)
12-1   Break
1-2   Money Management - In this class the participants will learn how to budget, save, and spend making appropriate decisions (PV)
1-2   Virtual Tours of Museums, zoos, amusement parks, and travel to some exotic places (CI)
2-3   Back to Basics: Reading - This class will focus on reading for comprehension and following written directions while reinforcing those skills needed for employment. (PV)

2-3

   Bingo

- Join us for a few games of Virtual Bingo (CI) 
Thursday
9-10   Virtual Theater Tours- Explore some famous theaters and productions from the comforts of your home. (CI) Registration Closed, Class is full.
9-10   Introduction to Conversational Spanish-Topics include greetings, basic vocabulary and conversations applicable to a variety of employment settings. (PV)
10-11   Drumming- Drumming stimulates creative expression. When you drum, you get to self-express and it's been called the equivalent of talk therapy! Drum circles provide a means of exploring your inner self, and expanding your consciousness while being part of a community. Participants will need to have a table or other item to use as their "drum". (CI) Registration Closed, Class is full.
10-11   Technology Level 2-This class is intended for those who have knowledge of computer basics. Students will be working in excel, spreadsheets and other computer programs needed to advance in employability.(PV)
11-12   Cooking With Candice- In this class you will be able to follow along as we create some culinary delights without the use of a stove. Students may need to use a microwave sometimes. Participants must be able to independently use basic kitchen tools such as a knife, can opener.  A list of required items will be sent a week prior to the class. We will also learn about different foods, proper food handling and sanitation. (CI) 
11-12   Book Club Level 1- The purpose of this book club Level 1 is for the participants to read the chosen book and follow with an enlightening discussion about the book, so as to provide an open forum of ideas and opinions. Participants will improve their comprehension skills so as to increase employability in the community. Reading level for this class is approximately 3rd grade.(PV)
12-1    Break

1-2   

Karaoke

- Sing your heart out to popular music. Words will be provided on screen for you to follow along. (CI) Registration Closed, Class is full.

1-2   

Back to Basics: Math

- Students will reinforce basic computation skills which may be required for employment. (PV)
2-3   Fitness- Students will follow a step by step guide covering the fundamentals of fitness and learn what they are required to do to reach their health and fitness goals.(CI)
2-3   Back to Basics: Writing- Students will learn about sentence structure, grammar, sequencing, and character development while creating a story as an end result.(PV)
Friday
9-10   

Social Discussion

- Join us for a discussion on current events as well as participant driven topics of interest. (CI)
9-10   

Job Skills 

- Students will learn the hard and soft skills related to finding and keeping employment. (PV)
10-11   Nutrition- Explore resources, tools, and printable materials on food and nutrition for healthy adults. Tips on healthy eating, including portion sizes, and reading a food label. (CI) 
10-11   Book Club Level 2 -The purpose of this book club Level 2 is for the participants to read the chosen book and follow with an enlightening discussion about the book, so as to provide an open forum of ideas and opinions. Participants will improve their comprehension skills so as to increase employability in the community. Reading level for this class is approximately 5th grade.(PV) Registration is closed. 

11-12   

Fitness

- Students will follow a step by step guide covering the fundamentals of fitness and learn what they are required to do to reach their health and fitness goals (CI) 
11-12   Money Management - In this class, participants will learn how to budget, how to save and spend making appropriate decisions. (PV)
12-1   Break
1-2   Cooking With Candice-In this class you will be able to follow along as we create some culinary delights without the use of a stove. Students may need to use a microwave sometimes. Participants must be able to independently use basic kitchen tools such as a knife, can opener.  A list of required items will be sent a week prior to the class. We will also learn about different foods, proper food handling and sanitation. (CI)
1-2   Back to Basics: Reading- This class will focus on reading for comprehension, following written directions while reinforcing those skills needed for employment. (PV)
2-3   Bingo-Join us for a few games of Virtual Bingo (the link to join will be sent prior to the class) CI
2-3   Technology Level I - This class will address and explore skills needed to be successful in employment. Basic computer literacy skills will be covered. (PV)
RETURN TO FULL CLASS LIST