2/18/21 UPDATE from the Executive Director
Good afternoon,
I am pleased to announce that The Arc of Monmouth has partnered with Walgreens on Tuesday, February 16th to vaccinate over 140 staff, residents, and Work Opportunity Center, participants. The second dose will be administered on March 9th. 

We are incredibly grateful to have been able to collaborate with Walgreens. Getting so many people vaccinated is a testament to the importance of us all working together to achieve a common goal.

Today, Thursday, February 18, 2021, DDD announced that Day Programs will continue to remain closed because of the ongoing Public Health Emergency in New Jersey. We all hope that as more people get vaccinated and the number of new Covid-19 cases decrease Day 
Programs, and the Work Opportunity Center will be able to re-open. When we are given a date to re-open, I will communicate that to everyone in a timely manner so that we can get your loved ones back to program. 

We continue to work to ensure that vaccines are available for all our participants and staff who want them. If you are able to get the vaccine sooner either through your pharmacy or at one of the NJ Mega Sites we encourage you to do so.

As always, if you have any questions or comments please do not hesitate to reach out to me directly either via e-mail rangel@arcofmonmouth.org or call me on (732) 493-1919 X 150. Questions can also be addressed to Leslie Kelly, Director of Adult Services lkelly@arcofmonmouth.org (732) 389-5256 or Linda Porter, Director of Vocational Services at WOC lporter@arcofmonmouth.org (732) 229-4414 X 204
-Bob Angel
---
2/4/2021 UPDATE from the Executive Director
It has been some time since I have written to give you an update on what is happening at The Arc of Monmouth, especially regarding the reopening of our Day Programs.
Today I participated in the bi-weekly Webinar run by the New Jersey Department of Developmental Disabilities (DDD) and it was made clear that due to the ongoing pandemic and the continued increase of new cases of Covid-19 in New Jersey, Day Programs, and the Work Opportunity Center (WOC) will remain closed.
DDD has stated that when this rule is relaxed, they will give two weeks' notice. At which point we will communicate that with you to ensure programs are back up as soon as possible. We look forward to seeing everyone back in programs.
I understand how frustrating this suspension of programs is, and I want to reassure you that as soon as we can reopen, we will. In the meantime, virtual programs continue to be run through Adult Services, Recreation and The Achievement Zone (TAZ).
We are looking to increase the outreach from WOC and provide more virtual programs and outreach services. WOC outreach services can also be accessed by telephone.
We are working diligently to secure vaccines for our served individuals and staff. As you know, there is a shortage of vaccines in New Jersey, but we are working with both Walgreens and Walmart to secure vaccines just as soon as possible. If you are the parent or guardian of one of our program participants and can get your loved one vaccinated elsewhere, I encourage you to do so.
If you have any questions regarding any of the above then please do not hesitate to reach out to either myself Bob Angel, Executive Director, rangel@arcofmonmouth.org (732) 493-1919 X 150 or Leslie Kelly, Director of Adult Services lkelly@arcofmonmouth.org (732) 389-5256 or Linda Porter, Director of Vocational Services at The WOC lporter@arcofmonmouth.org (732) 229-4414 X 204
-Bob Angel
---
1/8/2021 UPDATE from the Executive Director
As we start 2021, I want to take a moment to thank everyone that has been there and supported The Arc of Monmouth in 2020.  Our hearts go out to those who have suffered by personal loss or economic hardship. The journey through the pandemic has not been an easy one, but one thing remains very clear, the human spirit's ability to transcend for the common good.
Our ability to continue to provide the high level of service we do whether it be in one of our Group Homes or virtually in any of our programs, is down to one thing and that is the people who work tirelessly to provide services day in day out as they have done and continue to do so throughout this pandemic. A heartfelt "thank you" to you all.
I received news yesterday from DDD that Day Programs would not reopen on January 19th, as was originally hoped when I wrote to you before Thanksgiving about the program closures. The coronavirus incidence rate in NJ right now is at the highest it has been during the pandemic and so it was felt that to reopen programs would not be a wise move.
I realize that this news will come as a disappointment to many, but I know the decision by DDD would not have been taken lightly; but is the right decision given the facts.
As of today (1/8/2021) a target date for reopening has not been established.
The focus is now putting together a comprehensive vaccination plan for the agency and as we get more details about the availability of the vaccine and the establishment of the Points of Delivery (POD's) I will write to you again.
As always if you have any questions please do not hesitate to reach out to me on (732)493-1919 x 150, Leslie Kelly, Director for Adult Services on (732) 493-1919 x 250 or Linda Porter, Director of Vocational Services at the Work Opportunity Center on (732) 229-4414 x 204.
Thank you for your continued support and most of all patience.
-Bob Angel
---
Plain Language Guides for You and Your Family
---
11/19/20 UPDATE: Day Programs Re-Closing
Open Letter to Participants, Parents & Guardians.
Re: DAY PROGRAM CLOSURES
Date: November 19, 2020
It is with regret that I am writing to tell you that the Division of Developmental Disabilities (DDD) have informed us today that because of the ongoing pandemic and the increase in numbers of positive Covid-19 individuals in the State we are required to close all Day Programs at the end of the day on Wednesday, November 25th and they will remain closed until January 19th, 2021 at the earliest.
We have taken the decision at this time to close The Work Opportunity Center for the same period.
This has come as a blow because we only reopened the programs in October, but the decision by the State to require us to close is the responsible thing to do. The number one priority must be to keep everyone, participants and staff, safe.
As an agency we are better equipped than we were in March when programs closed the last time. We have virtual programs in place for all our participants…these programs having been developed since their inception in the summer and are working extremely well.
This has not been an easy decision to take, as one realizes the impact this has on both participants and families. Please be assured we will reopen our programs just as soon as we are able to, and in the meantime, all the staff at The Arc of Monmouth are here to support you.
If you have any questions about this latest closure or any other concerns, please do not hesitate to reach out to me or any of the other staff listed below.
Sincerely,
Bob Angel
Bob Angel – Executive Director: rangel@arcofmonmouth.org
Leslie Kelly – Director of Day Services: lkelly@arcofmonmouth.org
Trish Gomez – Director of Residential: pgomez@arcofmonmouth.org
Ann Marie McGoldrick – Asst Executive Director: amcgoldrick@arcofmonmouth.org
Linda Porter – Director of WOC: lporter@arcofmonmouth.org
---
Reopening at The Arc of Monmouth, October 27, 2020
Timeline:
Day Programs and WOC will close at the end of program Wednesday, November 25, 2020 and will remain closed until at least January 19, 2021
Day Programs opened October 13, 2020
Work Opportunity Center (WOC) opened October 21, 2020
Both were only able to reopen with a very limited capacity, so we have not been able to bring back all the people we would normally serve.
Safety Protocols & Reopening Plan:
Only by being vigilant can we hope to reduce the spread of coronavirus.
Before returning to program, detailed conversations took place between the participants, their guardians, support coordinators, and the agency to assess the risk for each person returning to program.
Ultimately, each family chose whether they feel comfortable returning to program at this time. Some chose to not return, for example, until a vaccine is available. Of course, we respect each person's decision and want to ensure all participants and families feel safe.
Everyone must test negative for COVID-19 before returning to program.
Daily temperature screening is required for all staff and participants.

At the WOC, we invested in a MOBOTIX® Thermal Imaging System to automatically detect raised temperatures.

5 point questionnaire about symptoms is required for all staff and participants.
Anyone who is unwell is asked to stay home.
All participants are encouraged to wear a mask, maintain social distancing of 6 feet or more, and wash their hands frequently and/or use hand sanitizer.
Plans Moving Forward:
In our original reopening plan (July, 2020), we had identified a 3 phase approach following a "soft" launch…we are in the beginning of that soft phase now (Oct, 2020) but do not know how long this phase will last.
A lot of this timing and decision making will depend on trends in the wider community as new cases are identified.
The Arc of Monmouth has to be guided by NJ Division of Developmental Disabilities (DDD) and Division of Vocational Rehabilitation Services (DVRS).
If anyone has questions about reopening of either day programs or the Work Opportunity Center, please reach out to Executive Director, Robert Angel at The Arc Center. 732-493-1919 ext. 150 or email rangel@arcofmonmouth.org.
Video: Nasal Swab Testing for People with I/DD
Face Masks Social Story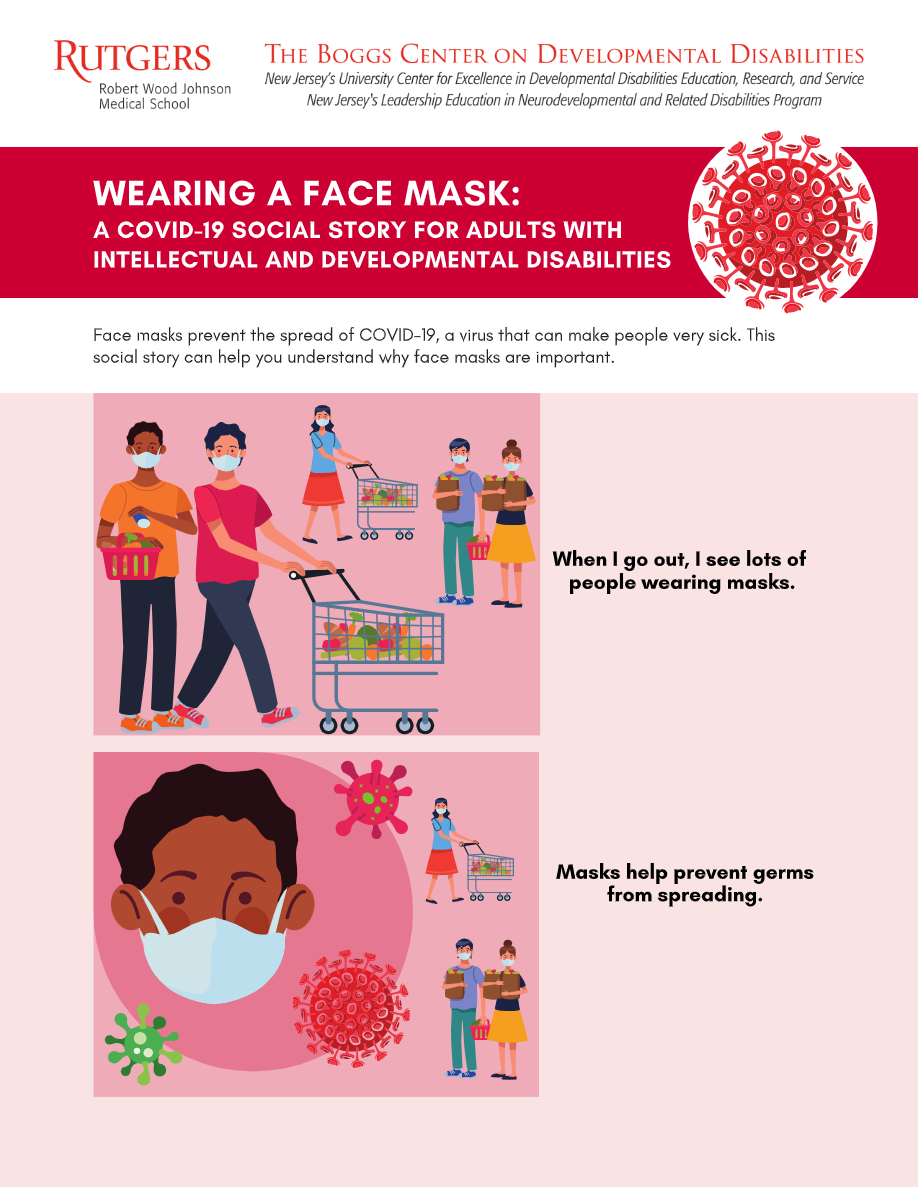 Helping Adults with I/DD Become Comfortable with Face Masks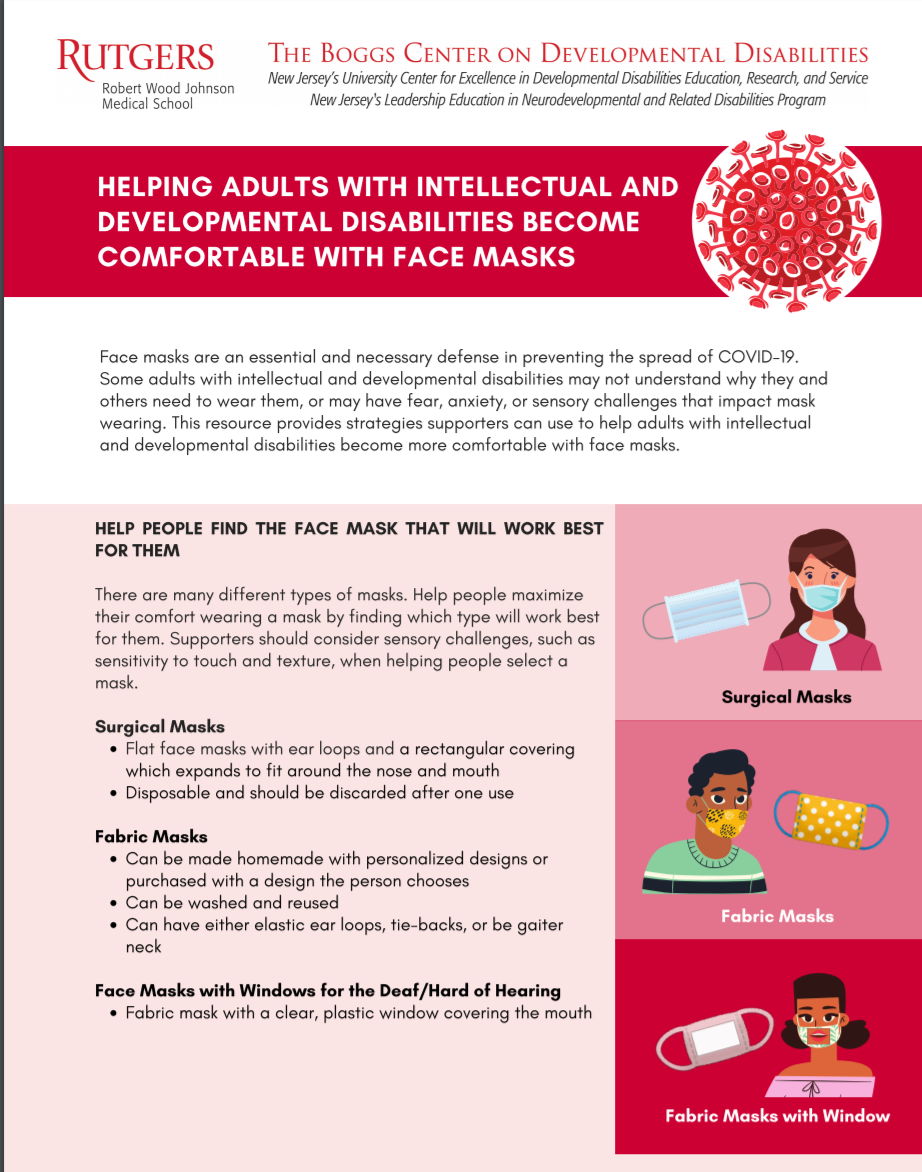 A Letter from the Executive Director - July 1, 2020
On May 5, 2020, I wrote to all the staff to share some of the plans we were developing for re-opening the day programs and the Work Opportunity Center at The Arc of Monmouth. As we continue to meet to finalize those plans, I thought it opportune to write again to the participants of the programs, their families and guardians with an update.
We still stand by the principles outlined in that May 5, 2020 letter:
We will only open when it is allowed by both the state and local government
We have the right safety measures and protocols in place; and
We have the confidence we can ensure the safety and well-being of our served individuals and our employees.
To date, we have received no guidance from either DDD or DVRS, but this has not deterred us in moving ahead with our plans.
All participants will be required to be tested for the Covid-19 virus and present a negative test result in a timely manner before returning to program.
As stated previously, it is our plan to re-open in a phased manner. This will be

[i] a soft opening to test the layout and logistics of the 'new normal' with a group of individuals who are at the least risk,  
[ii] phases 1 -3 will be those individuals who are at an increasing risk, with those who are the most vulnerable being in phase 3. 

Initially not every program will be able to accommodate all participants because of the social distancing guidelines.
Each of the day centers has been thoroughly cleaned and prior to that occurring, all old and broken furniture has been disposed of. New tables and chairs have been delivered and arranged in such a way as to allow social distancing. The same can be said of the W.O.C.
Social distancing signs are in place in all locations to help participants understand the importance of keeping a safe distance between themselves and their peers.
Additional hand sanitizing stations have been established in all locations to make sure staff and participants can clean their hands easily and regularly.
Personal Protective Equipment [PPE] appropriate for each individual and staff will be readily available.
Participants will be encouraged to wear a mask or face covering where it is practical and medically safe.
Staff will wear masks as well.
New programmatic supplies have been purchased and emphasis will be placed on individuals not sharing these supplies.
Additional steps that are being taken include daily monitoring of temperatures. Any participant or staff that presents with a fever [a temperature above 100.4 F] and/or any other symptoms will be sent home. 
Valid medical clearance will be required before returning to program.
Vehicles that are used to transport individuals will be cleaned regularly, and where an individual can make their own arrangements to get to program, this will be encouraged. Third party transportation companies e.g., J&D will be encouraged to follow The Arc of Monmouth guidelines.
Our goal is to ensure we carry on the outstanding work that all our staff have been doing in keeping our residents safe during this pandemic. We now want that to become the norm in all our day programs and the W.O.C.
If you have any questions at all, please do not hesitate to reach out to me.
Sincerely,
Bob
Robert S. Angel
Executive Director
July 1, 2020
Letter from Executive Director, 4/16/2020
Statement Released by The Arc of New Jersey Executive Director, Tom Baffuto 4/8/2020
The Arc of New Jersey's Executive Director Tom Baffuto released the following statement regarding the "It's Hit Our Front Door': Homes for the Disabled See a Surge of COVID-19" article that appeared in the New York Times on April 8. "Our hearts go out to the families and caregivers of the individuals with intellectual and developmental disabilities in New York who have lost their lives due to COVID-19. We recognize that we are living in an incredibly unsettling time, but it's important for people with I/DD and their families to understand the multitude of precautions taking place in New Jersey. All of the day programs across the state were closed by March 17 when the threat of the virus became apparent and Chapters of The Arc implemented shelter in place procedures immediately thereafter. Comprehensive emergency response plans were enacted and our local county Chapters, and their extraordinary Direct Support Professionals, are continuing to assist and support clients while abiding by screening policies, monitoring staff and clients for potential symptoms, and engaging in intense sanitizing of homes. While a portion of those served in the community have tested positive for COVID-19, we are working diligently to care for those who are ill while protecting and shielding others. In this unprecedented time, we are doing our very best for those we serve and represent. The Arc of New Jersey is here to advocate and support anyone in need of help as we push through toward better days ahead."
Click Here for original New York Times Article 
Executive Director Update, 4/1/2020
As we near the end of the third week of day program closures and with our residents still confined to their homes, I thought it important to write and update everyone on just how we are dealing with this crisis at The Arc of Monmouth.
The front-line staff who come to work every day and provide care to our served individuals have done, and continue to do, an outstanding job in caring 24/7 for our residents. The staff's flexibility and desire to meet each challenge this situation has thrown at us speaks volumes about them as individuals. We could not do what we do without them.
On behalf of the Board of Directors, the Management Team, and most importantly, our served individuals, we say a huge "thank you".
-Robert Angel, Executive Director
I am writing to you today to update you on what's been happening at The Arc of Monmouth in the last few weeks since we closed most of our programs because of the Covid-19 outbreak.

It has been a tough few weeks, with as you can imagine, many challenges. Sadly, we did lose one of our residents due to complications from the virus very early on. Our thoughts and prayers go out to her family, friends, and those who cared for her in her Group Home.
The health and safety of our residents and staff will continue to be a top priority. Thankfully, contact with the virus has been limited and the health of all staff and residents is monitored daily. I am pleased to say the majority of our residents remain at home safe and healthy.

None of this would have been possible without the dedication and commitment of all our employees; especially those on the front line who care for our residents every day. Their continued efforts are greatly appreciated.

It is uncertain how much longer these current conditions are going to be in place, but my commitment to you is that we will keep you informed every step of the way towards our reopening. Governor Murphy has in recent days begun to speak about how the State will reopen  for business. The Arc of Monmouth is closely monitoring all these updates and will follow all the recommendations and guidance provided when it comes to reopening our programs. We all want to return to some degree of 'normality' as soon as possible.

If you have any questions regarding program opening please call Kristy Ford at (732) 493-1919 ext. 125 and she will be able to direct you to the appropriate person to answer your questions.

Please stay safe and well, and I look forward to welcoming everyone back soon.

Sincerely,

Robert S. Angel
Executive Director
---
General Program Updates from The Arc of Monmouth
Our top priority is the safety and health of our served individuals, their families, and our staff. The Arc of Monmouth will continue to follow guidelines and recommendations made by the CDC and the state of New Jersey. Our executive team continues to monitor the situation and is taking every precaution to be able to respond rapidly.
Residential/Community Living: 
The Arc of Monmouth continues to support 87 residents in our group homes, plus everyone in the supported apartments and independent living programs. We are so thankful for the dedicated direct support employees. Group homes continue to be staffed 24/7 and the staff have been finding fun activities to keep residents engaged and entertained while staying safe at home. Direct support staff continue to check in with those in supported or independent apartments to meet their needs. Health services team members regularly check in with all residents regarding both their physical and mental well-being. 
Day Programs: 
Day programs will remain closed until determined safe to reopen. This includes the following programs: Branches, Eatontown, Green Grove, Shore, and Western Monmouth Adult Day Programs, the Work Opportunity Center, The Achievement Zone, and the Kach College Program. 
Recreation: 
Recreation activities are cancelled indefinitely. Refunds or credit will be provided where applicable. There have been two virtual fitness/yoga classes over Zoom video. Please visit arcofmonmouth.org/recreation or follow The Arc of Monmouth on Facebook, Instagram, or Twitter to stay up to date when these offerings are available. 
Do you or your family need help?
Dial 2-1-1 for help. New Jersey has set up a special hotline dedicated to coronavirus information and community resources to help everyone through this difficult time. Visit New Jersey's COVID-19 website here. 
Join Our Response Team
While our resources are all focused on the current threat, much of our normal funding is not coming in. 
We know this is an uncertain time for everyone. If you have the means to give, we are extremely grateful. Every dollar supports people with I/DD to live a full and meaningful life. Click here to donate
There are many things you can do to make a difference. Click here to help
---
Click to Download the Letter to Caregivers 3/16/20