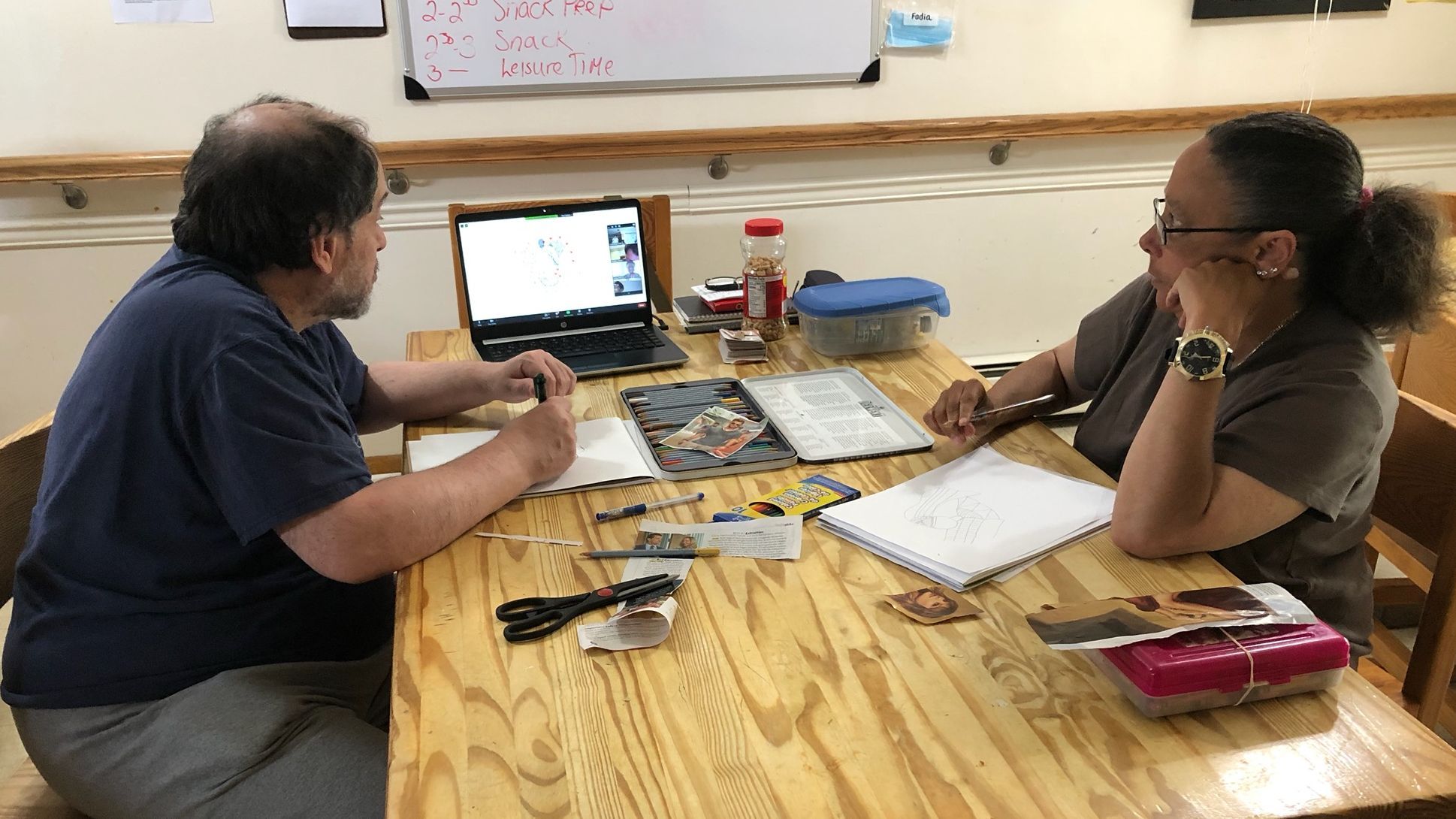 Adult Services - Virtual Programs
The Arc's Adult Services department is excited to announce their remote programming groups for participants in Day Habilitation. All of our remote learning programs are for all abilities and are open to everyone. Lesson topics will change daily. 
We've taken some of the most engaging program activities and made them virtual. You'll be able to participate in the comforts of your own home while seeing old friends and familiar program staff. 
Below is a guide describing each class that will be offered. Participants can choose as many activities as they would like to join. Please ensure your technology devices can use Zoom. 
If you have any questions, please call the Eatontown Achievement Center at 732-389-5256.
---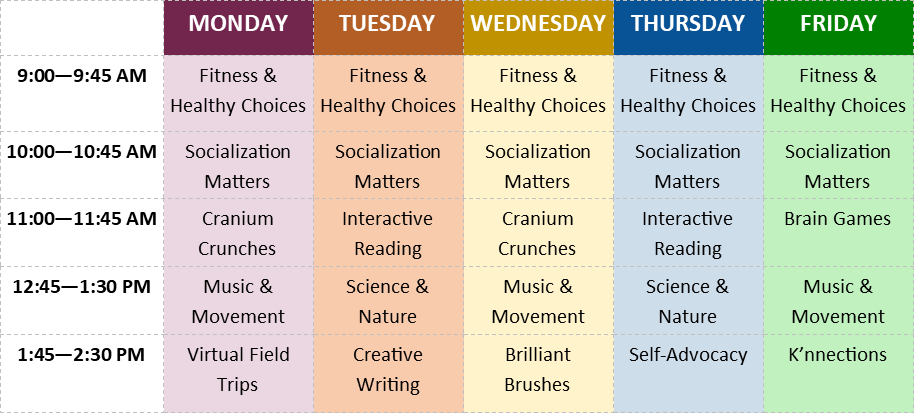 Program Descriptions:
Fitness & Healthy Choices
This is a two-part interactive lesson offered daily. 
Get moving! Participants will perform chair exercises and yoga to increase their strength, balance, and body awareness. Each participant will also have the chance to suggest and teach new exercises to the class promoting self-confidence and communication. Participants will learn about making healthy choices involving eating habits, wellness, stress management and the importance of hygiene in addition to home and community safety. Topics will change daily. 
Socialization Matters
This is an interactive two-part lesson offered daily.
Participants will have the opportunity to engage in safe, guided discussions related to current events and the impact on their lives. They will also join group activities geared towards expanding their skills in regards to reading social cues and body language, understanding and expressing emotions, coping with teasing and bullying, problem solving, and turn taking. 
Interactive Reading
This group will be held bi-weekly (Tues/Thurs at 11 am).
Take a journey with a group of friends! Be transported to different worlds and learn new, exciting things! This interactive, multi-platform reading group brings passionate readers and enthusiastic listeners together. Through guided reading, participants will increase reading comprehension skills. With group discussions, this class will promote self-confidence and will expand communication skills. All reading and listening abilities are welcome!
Creative Writing
This group will meet one time each week - on Tuesdays at 1:45pm. 
Bring out your inner author. Participants will learn how to create short stories, either through the written word, picture cards or physical, expressive movements. We will also learn how to start journaling. Each story can be presented to the group increasing self-confidence and social awareness. All abilities are welcome!
Cranium Crunches
This learning activity will be held bi-weekly (Mon/Wed at 11 am).
Get thinking! Participants will join in a group collaboration as they increase their knowledge of numbers and letters, money management, word recognition, telling time, and more! There is no limits to what we can learn. We'll be using a wide variety of learning materials as a resource. Any needed worksheets and educational materials will be provided. 
Brain Games
This fun lesson will take place every Friday at 11am. 
Who said learning can't be fun?! Participants will join in group activities such as word bingo, sound bingo, situational and emotional flashcard activities, trivial pursuit, name that tune, and "where in the world" geography quizzes. The possibilities are endless. Any needed work materials will be provided. 
Music & Movement
This activity will be offered 3 times each week (Mon/Wed/Fri at 12:45 pm)
Music is not a spectator sport. Be prepared to sing and dance! Participants will engage in structured activities along with free-style that include instrumental, sing-a-longs, and physical expression through music. This class is geared towards creating a musical, joyful experience at home. Special guest stars from The Arc of Monmouth weekly!
Science & Nature
This interactive group will meet twice weekly (Tues/Thurs at 12:45 pm)
Join us as we put on our lab coats and explore the world around us through the use of experiments, power point presentations, STEM activities, and the creation of science flip books. Topics will include life cycles, habitats, the solar system, weather, and more. Any needed materials will be provided. 
Virtual Field Trips
Once weekly - Mon at 1:45 pm
Let us take you to amazing places, both near and far! We'll become world travelers as we explore other countries, oceans, historical landmarks, animal sanctuaries, and fascinating museums. Each guided tour will be followed by a discussion and a group activity. 
Brilliant Brushes
Once weekly - Wed at 1:45 pm
This activity is an introduction to basic art techniques, including a wide variety of mediums such as pencils, paints, markers, etc. Participants will be encouraged to explore different artistic techniques while creating their own unique projects. Engaging in art has countless benefits including strengthening focus and attention span, as well as increasing self-expression. 
Materials Needed: pencils, markers, paints and paint brushes, paper, cardboard, crayons. Any extra materials for special projects will be provided. 
Self-Advocacy
Once weekly, Thurs at 1:45 pm
This group is open to everyone seeking to enhance their self-advocacy skills and build self-confidence. Participants will review and develop a better understanding of their personal rights and will seek new ways to become a bigger part of their community by developing special projects and random acts of kindness. 
K'nnections
Once weekly, Fri at 1:45 pm
Participants will join an interactive, social skills team building group. Everyone is encouraged to work together using legos, K'nex, pegs, or Duplo blocks and other household items to create a collaborative scene while engaging in guided topic discussions related to social skills and social awareness. Participants can use any materials they already have at home to be creative.