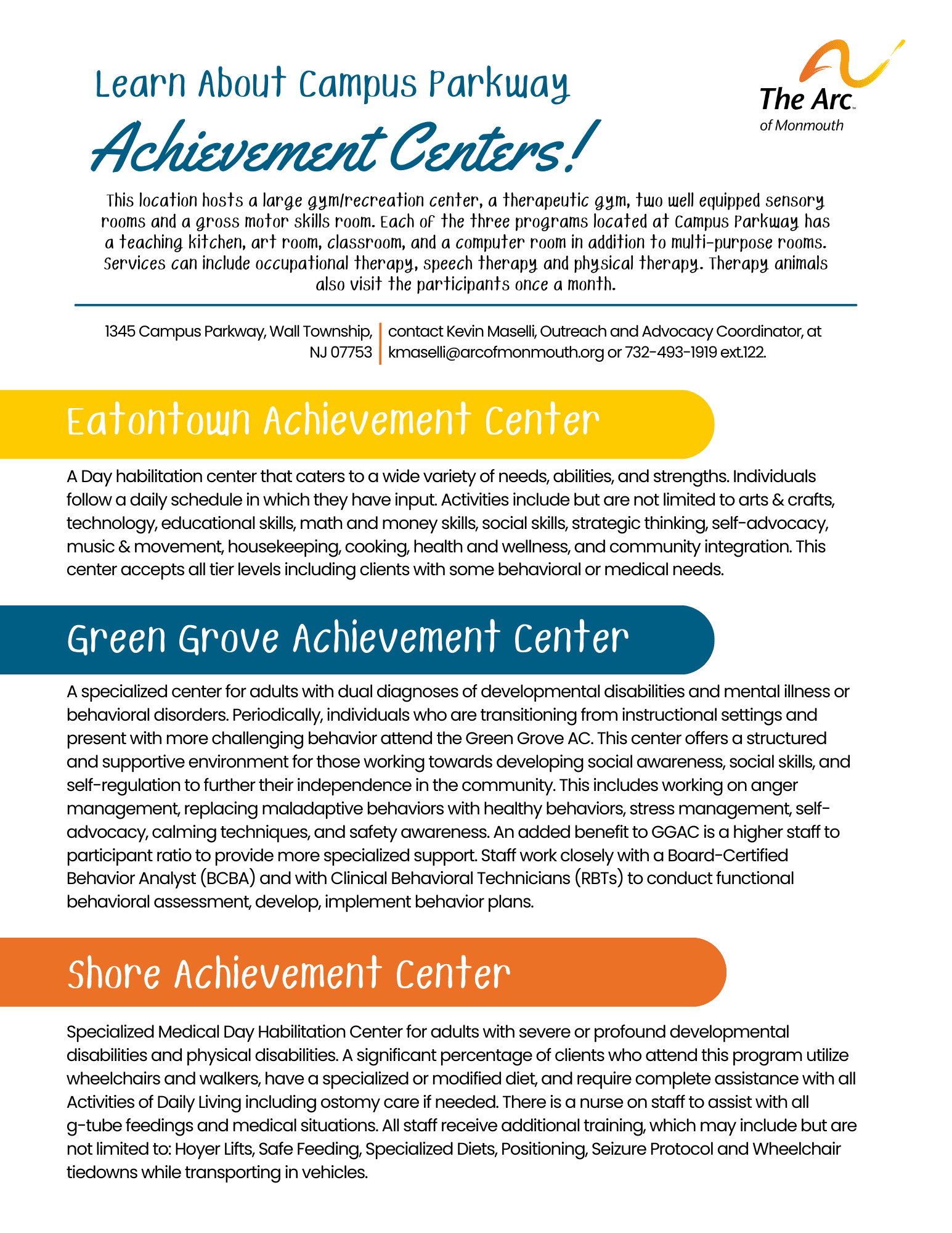 EXCITING NEWS 
After many months in the planning, I am delighted to tell you that we will finally be moving our Eatontown, Shore, and Green Grove Day Programs to our new site at 1345 Campus Parkway, Wall Township, NJ., on January 3rd 2023! 
This new site has been designed to accommodate all three Day Programs in 30,000 sq/ft of space, with particular detail being paid to the special needs of the served individuals attending the different programs. This is the first time, in a very long time, that The Arc of Monmouth has had the chance to occupy a space specifically designed to our specifications.  
Each program area is fully equipped to ensure all our participants get the most out of the time they spend with us. Each space has a program area, an art room, a computer room, a kitchen, a dining area, as well as a gym and an isolation room. 
To ensure we are able to provide all the necessary therapies for our participants; Physical Therapy, Occupational Therapy and Speech & Language Pathology, we will be offered on site by new The Arc personnel. 
There are three identical fully equipped kitchens which will be used for teaching, cooking as well as the needs of other programs. For the first time we will have both a Sensory Room and a Gross Motor room in the same building. 
To enable a smooth transition, the Green Grove and Shore programs will be closed on December 29th & 30th, and will reopen after the Holiday on January 3rd at the new location. (This closure will not affect either The Branches or Western Monmouth programs that will remain open on those days). 
We will be having an official opening either late Spring or early Summer when we are all settled in to the new space.  Stay tuned for details as we make our move… 
If you should have any questions, please do not hesitate to contact Leslie Kelly, Director of Adult Day Services, at lkelly@arcofmonmouth.org or by telephone (732) 686-1105 X 450; or Robert Angel, Executive Director, at rangel@arcofmonmouth.org or by telephone 732 493-1919 X 150. 
If you are interested in the day programs being offered at Campus Parkway, taking a tour, or just want to inquire about availability, please contact Kevin Maselli, Outreach and Advocacy Coordinator, at kmaselli@arcofmonmouth.org or 732-493-1919 ext.122. 
Amy Hilton, Assistant Director - Adult Services (732) 686-1105 ext. 452